Welcome to the Serious Sam Wiki's Serious Sam Advance portal!
Serious Sam Advance levels, weapons, monsters, and more!
Summary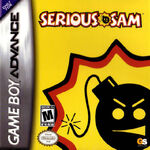 Serious Sam Advance is a game in the Serious Sam series. It is the only Serious Sam game on the Game Boy Advance. Despite the system it's on, it features classic Serious Sam gameplay; lots of enemies, big weapons and a score system. It also has new enemies and weapons that haven't been seen in a Serious Sam game since, such as the Methug Soldier and the Time Strike. Read more...
Contents

Enemies

---

Weapons

---

Items

---

Levels

---

Characters

---




Bosses




Other

---
Featured Video
Featured Picture
Poll
Have you ever played Serious Sam Advance?
Ad blocker interference detected!
Wikia is a free-to-use site that makes money from advertising. We have a modified experience for viewers using ad blockers

Wikia is not accessible if you've made further modifications. Remove the custom ad blocker rule(s) and the page will load as expected.