Welcome to the Serious Sam Wiki's Serious Sam: Next Encounter portal!
Serious Sam: Next Encounter levels, weapons, monsters, and more!
Summary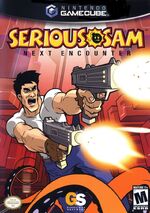 Serious Sam: Next Encounter is a game in the Serious Sam series. Gameplay is close to Serious Sam 1, but features some new elements, such as vehicles, more emphasis on score and alternate ammo for almost every gun. In addition, there are far more wide-open and large levels than any any Serious Sam game that's come before or after it. Read more...
Contents

Enemies

---

Weapons

---

Items

---

Levels

---

Characters

---




Bosses




Other

---

Random Featured Article

The XM4000 Minigun is a weapon in Serious Sam: Next Encounter. It is your average minigun, but is designed to chamber both regular 9mm rounds and a special type of cartridge; the Homing Bullet. This makes it very versatile and powerful.