Welcome to the Serious Sam Wiki's Serious Sam: Next Encounter portal!
Serious Sam: Next Encounter levels, weapons, monsters, and more!
Summary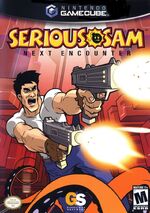 Serious Sam: Next Encounter is a game in the Serious Sam series. Gameplay is close to Serious Sam 1, but features some new elements, such as vehicles, more emphasis on score and alternate ammo for almost every gun. In addition, there are far more wide-open and large levels than any any Serious Sam game that's come before or after it. Read more...
Contents

Enemies

---

Weapons

---

Items

---

Levels

---

Characters

---




Bosses




Other

---

Random Featured Article

XPML4000 Rocket Launcher is a weapon in Serious Sam: Next Encounter. It is similar to the XPML Rocket Launcher, but can use special heat-seeking and sonic-wave rockets, making it more powerful than the XPML21.